Taking your brand from idea to reality doesn't stop at the manufacturing and production of your products. Designing quality, eye-catching product labels, boxes and giving your brand life is another one of our key aspects. Looking to manufacture E-Liquids? Let us help you not only manufacture and produce but create the designs that will take the market by storm.
Here at Xyfil, our Creative Studio encompasses many creative aspects of building a brand or product. Making your products stand out on the shop floor and online is a passion of our creative team. Meet our Creative Studio and learn more about the creative process behind brand creation.
Jack Tidy, Creative Studio Manager
"Whether you only have an idea, or are already halfway done with your project, the creative studio at Xyfil is a swiss army knife of creative discipline. We can join you at any stage of your journey and see it through to the end in a polished & professional manner."
As the Studio Manager, my main responsibility is to intercept internal and external demands and manage the creative workflow for my team. Communicating with customers is key within the Creative Studio to get a deeper understanding of the brand/products we are working with. It's not uncommon to have meetings with our clients to discover their needs and what they wish to achieve.
Translating these into actionable briefs and communicating between my team and clients is honestly something I truly enjoy. And I can wholeheartedly say my team also share this passion for our work.
What does the Creative Studio Offer?
Our Creative Studio exists to meet the demands of customers that need support for creative work. This could be those looking to create their brand and product range from the ground up. Or it could be for those who simply need product labelling and packaging updating for compliance. We work with complete brand concepts and creation to finalising product ranges. Plus we go the extra step by producing creative content for POS (printed media, digital web banners, media kits etc), all to help you and your brand hit the ground running.
There are those who already have an existing range/brand and are simply looking to update their labelling and packaging. We work closely with our Compliance team to update packaging and labels to suit global compliance measures. Our studio aims to provide an all-timeline service where we can help you through any step of the process, and after.
We are also capable of revitalising brands, bringing them into the modern market by updating their logo and labelling. This could be to make them more compliant or to rejuvenate the brand with a fresh new look. For example, The Big Tasty brand used to look very different but went through a design phase to uplift the logo and labelling to match the modern vaper. The designs became less flashy and more contemporary in a sleek, clean look that has certainly proven popular. The purpose of the design was to announce 'big, bold flavours' and we can certainly say we achieved this.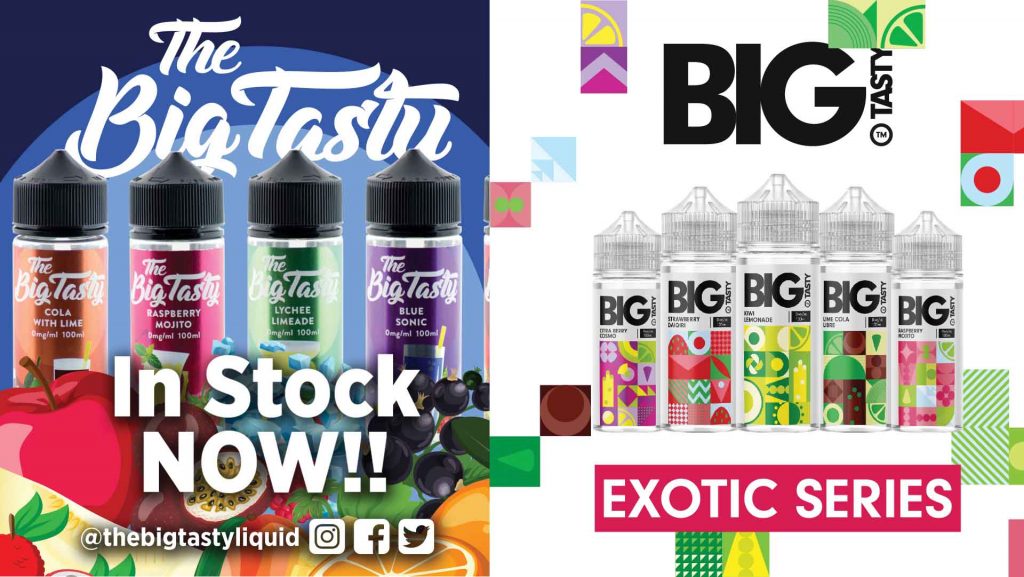 How is the day-to-day with the Creative Studio?
It really differs on a day-to-day basis as our Creative Studio encompasses a spectrum of creative needs. This includes the likes of content writing, digital marketing, graphic design and reprographic design. On a day, our designers could be working on new brochures or flavour cards to promote brands, to designing labels and packaging or product concepts.
We work closely with operations to intercept the demands of our clients to meet tight schedules. Pre-empting demands comes naturally as we work closely with our clients to create an understanding of their brand ideals and goals. For brands that are starting from the very beginning, the Creative Studio can help with logo concepts, brand name/range name concepts, product labelling and packaging all the way to product images and media kits with digital creative content.
The Creative Studio in Action
Since having helped found and grow the Creative Studio into what it is today, we have helped over 250 global brands. We have successfully supplied creative content for approximately 25 million units across different disciplines, across the globe. Not only for UK based brands but those overseas too, supplying creative work for E-Liquid and CBD products, but we're not limited to just that. We have even worked on more bespoke items such as hand sanitisers, MCT oils and cough syrups.
The Creative Studio covers a range of product ranges with no task too small or too big. We have proven successes with the brands we work with including our own, Pod Salt. Our range of Nicotine Salts has seen global acclaim with strong ideals that are carried through by the branding and POS that we've created and supplied. Our goal with Pod Salt was to create a premium brand through and through, so when potential customers look at Pod Salt products, this is exactly what they see. From the packaging to the labelling, to the POS in stores, Pod Salt's message is clear, and its successes speak for itself.
Building a brand from the ground up offers challenges that my team are only too happy to complete. White label manufacturing gives us the chance to help create something totally new with the goal in mind to make your brand stand out from the rest. If you're looking to start up a new E-Liquid brand and wish to choose Xyfil as your white label manufacturer in the UK, I assure you that you won't be disappointed.
Get in contact with us today to find out how we can help.