Since 2017, CBD has seen an explosive increase in interest that has yet to slow down. This is possibly due to the legalisation of CBD in the US and UK, the largest markets for CBD, in 2018. Currently, the UK is the second-largest CBD market behind the US, with an industry worth of £700 million so far – and it's forecasted to surpass one billion pounds by 2025. So, for those looking to join the CBD market, now is as good a time as ever. Creating your own CBD brand couldn't be simpler when you manufacture with us here at Xyfil.
Preferred CBD products – the demand for CBD
In a recent study on CBD consumers in the UK, it was found that unsurprisingly the most preferred product type was CBD oil/drops followed by CBD vape and CBD pills/capsules.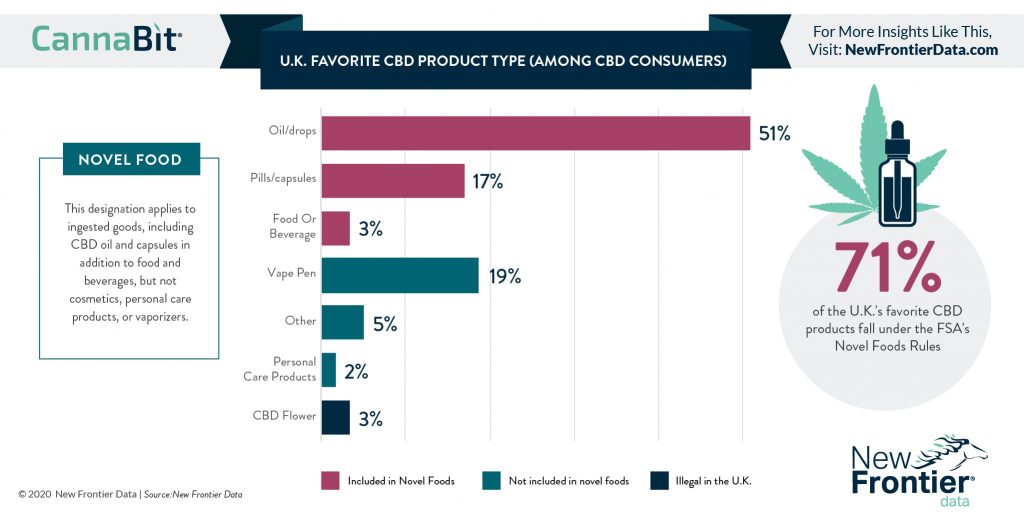 [SOURCE: newfrontierdata.com]
CBD Oil is mostly used as sublingual drops that are easy to use and offer a longer release of CBD. Much of the CBD market is made up of CBD Oil so creating a CBD Oil brand can be very competitive. Similarly, CBD vape has grown in popularity due to the convenience of disposable vapes and the quick absorption of the CBD.
How to start a CBD brand in 2022
There are several key steps you need to explore when looking at starting a CBD brand. Firstly, identifying your CBD product type and the niche you can offer can be the make or break of your brand. With many brands looking to step up to the CBD industry, knowing how you can set your products apart is essential for becoming a household brand.
Research is key
Research current products on the market and see if there are possibly any gaps you can use. If you've got an innovative new idea on how to introduce CBD to customers, then identify if this is something consumers are looking for. Perhaps you want to hit the popular product types with a new spin that only you can offer?
At Xyfil we offer a wide range of popular CBD products such as CBD oil, CBD vape and CBD creams & lotions. But we can also offer capabilities for many more CBD products due to our versatile manufacturing that can help you create bespoke CBD products. With anything from bath bombs to sleep sprays and more, your CBD product idea can become a reality with Xyfil.
Understand regulations around CBD
Another key aspect is to understand the regulations around CBD. Although CBD in the UK is largely unregulated there are still some laws you should be aware of. For example, the hemp used to create CBD products cannot contain more than 0.2% THC. You also need to know CBD is categorised as a novel food group or vape product – CBD products in the UK cannot have medical claims attached to them. The laws in the UK and US differ slightly, and in the US, there are also different laws for each state. Deciding where you wish to market your CBD products will impact on which regulations you need to adhere to.
Ensure the quality and safety of your products
Lastly, ensuring your CBD brand is made from quality CBD is an important step to creating a premium brand that is both safe and effective. CBD manufacturers that use organically grown CBD from certified hemp farms, particularly in the US, offer the highest quality of CBD hemp on the market. Organically grown hemp is the cleanest available due to there being no pesticides used in the cultivation process – hemp plants are notorious for absorbing everything around them in the air and soil.
You also want to ensure that their CBD is sourced specifically from hemp plants and not marijuana ones (as these contain higher levels of THC). Reputable CBD manufacturers will also be able to provide certificates of analysis (COA) detailing the product content.
Xyfil sources CBD from certified organic hemp farms in Colorado which go through extraction to become CBD Isolate – the purest form of CBD. We are even able to go the extra mile to re-add the terpenes and flavonoids removed from CBD during extraction, to improve the quality of CBD and give users the complete entourage effect without THC.
White label CBD manufactured in the UK
Xyfil are the proud manufacturer of one of the UK's popular CBD brands, and award-winning CBD vape brand, Cali Greens. Sourced from premium CBD straight from Colorado hemp farms, we offer white label CBD manufacture and OEM CBD manufacture in the UK. Work with us to create your CBD brand and create an award-winning range of products. From flavour development, R&D, manufacturing, production, creative studio work and more, we can help you throughout any stage of the process.
Get in contact with us today to find out how we can help you tackle the UK CBD market.