When it comes to the making and selling of E-Liquid products and E-Cigarettes, there are many rules and regulations that must be abided by to ensure the viability of your products on the market. These can differ depending on the country in which the products are manufactured or being sold in. This week we look at compliance in the UK, and what is necessary for E-Liquids that are manufactured and sold within the UK.
---
The MHRA and E-Liquid Regulation
In the UK, nicotine-containing products, including E-Liquids, are regulated as medicinal products and thus required to be submitted to the MHRA (Medicines & Healthcare products Regulatory Agency). The MHRA is a division from the Department of Health and Social Care and is responsible for the regulation and sales of medicines and medical devices. Compliance with the regulations set out by the MHRA are essential for selling your product in the UK.
---
What are the regulations for UK products?
The regulations for selling E-Liquid and E-Cigarettes in the UK fall under the Tobacco and related Products Regulations(TRPR) and the Tobacco Products and Nicotine inhaling Products (Amendment) (EU Exit) Regulations 2020 – the UK version of TPD (Tobacco Products Directive) dictated by the EU.
These regulations were introduced to ensure:
minimum standards for the safety and quality of E-Cigarettes and refill containers
that information is provided to consumers so that they can make informed choices
an environment that protects children from starting to use these products
The requirements for the TRPR regulations are:
E-Cigarette tanks are no more than 2ml in capacity
the maximum volume of nicotine-containing E-Liquids for sale is no more than 10ml per container
E-Liquids must be no stronger than 20mg/ml in nicotine strength
products must be packaged in child-resistant and tamper evident packaging
certain ingredients including colourings, caffeine and taurine are banned from nicotine-containing E-Liquids
products must contain all labelling requirements and warnings
all E-Cigarettes and E-Liquids must be notified to the MHRA before they can be sold
The 2020 regulations amend implemented obligations of the Withdrawal Agreement and Northern Ireland Protocol. This created a few regulations that are also important to note from products created after January 1st 2021.
Producers placing products on the Northern Ireland market will be required to notify, using the EU Common Entry Gate (EU-CEG) system, for the notification of tobacco and E-Cigarette products
Producers placing products on the Great Britain market will be required to notify on the Great Britain domestic system
Notifiers will be required to pay one fee if they notify in relation to placing products on one of the Great Britain or Northern Ireland markets and the same one fee if they notify in relation to placing products on two markets
These regulations are more for manufacturers of E-Liquids rather than retailers unless they also qualify as a producer/manufacturer.
---
E-Liquid Labels & Packaging
Aside from the obvious contents of E-Liquid and the regulations on its ingredients, strength and volume, the packaging is also highly important in terms of compliance. In the UK, products must be labelled and packaged in accordance with the MHRA's regulations to sold in the UK market.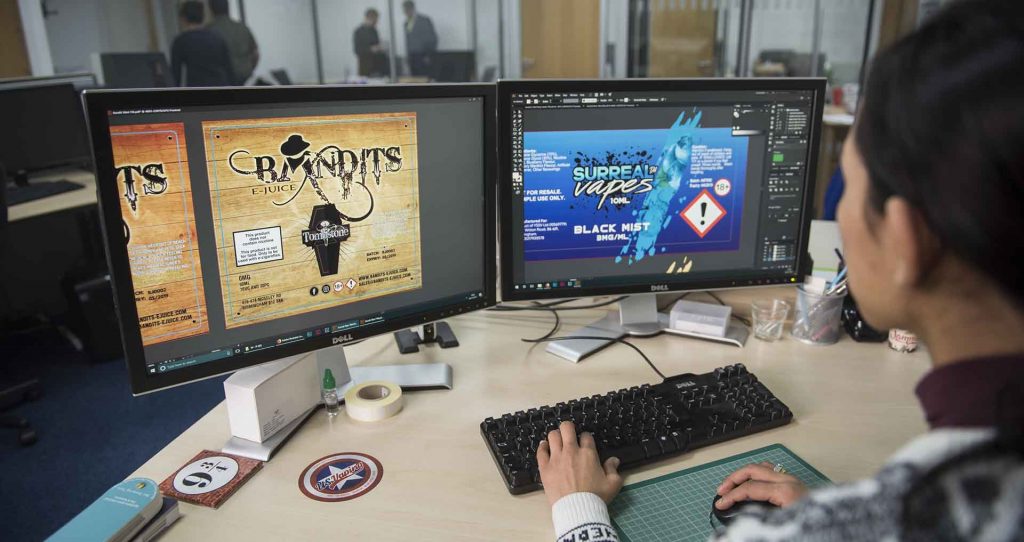 Depending on the classification of the product there will be certain warning labels and pictograms that are necessary. For example, products containing up to 20mg/ml of nicotine should have one of the following:
if medical advice is needed, have product container or label at hand
Product contains nicotine
Those containing 3mg/ml must show a warning pictogram (red diamond with exclamation mark) and information on the product being harmful in contact to skin.
Packaging should also contain the list of ingredients (usually shown as: propylene glycol, vegetable glycerine, nicotine & flavourings), the nicotine content, a warning to keep out of reach of children and animals, a batch number, manufacturer's name and contact details plus health warning. The health warning must be visible on the two biggest planes of the individual and collective packaging, taking up 30% of the area, to be compliant.
---
Xyfil covers your compliance
"At Xyfil, we work closely with the MHRA and have invested in the expertise and capability to take your business through the required regulatory framework. Our in-house team of experts are able to perform the necessary toxicological evaluations on the compounds detected during the analysis of your e liquid and its emissions."

– Pradip, Compliance Officer, Xyfil.
This might seem like a lot to contend with when looking to start your E-Liquid business or launch a line of E-Liquid products, but here at Xyfil we are able to provide all the necessary labelling and packaging requirements, as well as manufacturing your E-Liquids to UK regulations. As a white label manufacturer with over ten years of experience in helping brands from idea to shop floor, we are highly experienced in UK compliance for manufacturing, producing, marketing, and selling of E-Liquid products.
All our E-Liquids are produced and fully certified in an ISO:9001 accredited facility, with ISO-7 clean rooms and fully compliant with best GMP practices. This means we promise high efficacy and quality of the products we produce. All our base ingredients are European Pharmaceutical grade, the cleanest and safest grade available on the market. The plastic bottles used for all our E-Liquid products are FDA approved food-grade, to ensure that every aspect of the product is quality controlled and compliant. And with full traceability throughout the entire process of manufacture to the point it leaves our doors, we give you peace of mind with your products.
We also operate as a Toll Manufacturer meaning that should you already have your product ready-made or are looking for help with a part of the manufacturing process, and are looking to establish compliance for UK markets, we are also able to help at any point of your journey. From bottling, labelling, packaging, marketing content and even distribution, Xyfil has you covered. Don't feel overwhelmed at the sight of all the regulations, we can help you get your product onto UK markets and guarantee top quality compliance with our dedicated, in-house compliance team.
Get to know us more and meet the team over on LinkedIn.